Our car parks and transport services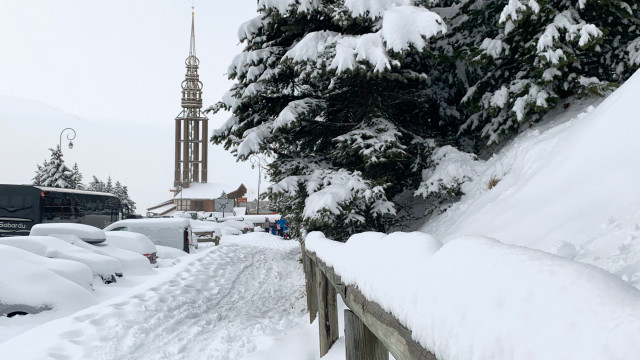 Compulsory winter equipment
Please note that since the 27th September 2021, special equipment for vehicles is no longer an option, but is now compulsory in winter. This applies to the whole Savoie region, and shall be in force between the 1st November and 31st March.
Light vehicles, utility vehicles and motorhomes must now:
either be equipped with steel or fabric snow chains for at least two drive wheels;
or be equipped with four winter tyres with the 3 PMSF (Three-Peak Mountain Snowflake) logo featuring the letters MS, M+S or M&S.
Alternatives:
Users can also choose to fit '4 seasons' tyres, as long as they have the 3 PMSF logo + the letters MS, M+S or M&S.
This obligation does not apply to vehicles equipped with studded tyres.
Please note: These obligations also apply to coaches, buses and lorries without a trailer or semi-trailer, who also have the choice between chains and winter tyres.
Lorries with a trailer or semi-trailer must be equipped with snow chains for at least two drive wheels, even if they are already equipped with winter tyres.
Penalties will apply for those who fail to comply. Drivers who do not have the necessary equipment may be issued a 4th category fine, i.e., a 135 euro fine and possible immobilisation of the vehicle. The driver of the vehicle shall be liable for the penalties, not the owner.
Parking facilities
In summer, you'll have no trouble finding outdoor parking spaces and the car parks are free.
In winter, you have a number of options:
Free outdoor car parks can be found in every district of the resort.
Covered parking spaces are available at La Croisette. Book online
You'll also find outdoor parking spaces at La Croisette, near the bell tower close to the centre-resort.
Once you arrive in Les Menuires, you can give your car a rest as you won't be needing it during your stay. Free shuttle buses run between the different sectors and between resorts.
Free shuttle buses
Taxis