Information COVID-19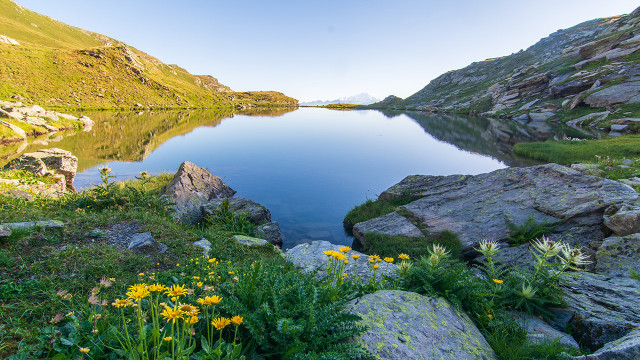 19/07/2021 at 10:20am
Summer's here, and we are all working hard to welcome you in the best conditions. This brief overview of the hygiene measures in place will help you to enjoy your holiday with us.
Cancel at no cost
Accommodation providers are proposing flexible cancellation terms. On the website Les Menuires reservation, most of the proposed accommodation have "free cancellation" labels which means that you can cancel your booking until 8 days before your arrival date, if you do so for a reason linked to the health crisis. However, not being eligible for the "pass sanitaire" is not a valid reason for cancellation.
Large areas and outdoor activities
The mountains are the ideal place to get away from it all and explore new horizons, far from the crowds of the coast and the big cities. The mountains offer a breath of fresh air to take time for yourself and your family.
There are plenty of outdoor activities: hiking, mountain biking, horse riding, paragliding, rafting and canyoning, but also guided cultural heritage tours, introduction to the local wildlife, visits to alpine farms... you are sure to find something to suit you.
See summer activities and excursions
Wearing masks
Since 10 June 2021, it is no longer compulsory to wear a mask outdoors in the Vallée des Belleville It is still mandatory in all enclosed areas and outdoors in situations where social distancing rules cannot be applied.
"Pass Sanitaire"
Following the announcements from the French President on the 12th July 2021, the national measures that are to be enforced in the Vallée des Belleville are as follows:
21st July 2021: the "pass sanitaire" will be compulsory for all leisure and cultural spaces with more than 50 people.
From the 1st August: the "pass sanitaire" will also be compulsory in cafés, restaurants, shopping centres, hospitals, care homes, and for long-distance plane, train and coach journeys.
Inspections will be made at the entrance to public venues (sports centres, restaurants, etc.)
What are the conditions of acquiring a "pass sanitaire"?
Vaccination certificate, illustrating that you are fully vaccinated;
A negative test result from the last 48 hours, or maximum 72 hours for border controls;
Positive PCR or antigen test result certifying that you have recovered from Covid-19, from at least 11 days prior and less than 6 months.