Ereignisse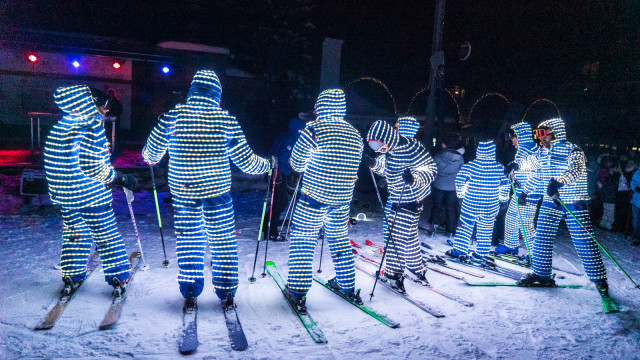 In both summer and winter, come and feel the rhythm at the big musical, sporting and comedy events in Les Menuires and the Vallée des Belleville. From the MTB French Cup to traditional village fetes, there's something for everyone.
25 September 2021 - Terre Terroir Tarentaise Festival
Immerse yourself in Savoyard culture and learn more about the traditions of the Tarentaise valley. Holidaymakers can enjoy traditional songs, music and dances, a craft market and a mini farm with cows, sheep, goats, donkeys, and horses.
3 to 6 January 2022 - winemakers' week
For 20 years now, every winter, all the richness of our French vineyards can be found in Les Menuires: Bordeaux, Burgundy, Champagne, Côtes-du-Rhône, Sancerre, Beaumes-de-Venise, Jura, Touraine, Moselle, Gard... all regions are represented by passionate winegrowers, who have come to share their knowledge and the fruit of their production.
17 February 2022 - Trophée de l'Espoir
For 25 years, Les Menuires' calendar has been marked each winter by this important charity event. The aim of this day, sponsored by David Douillet, is to raise money for the Association Départementale des Infirmes Moteurs Cérébraux 74 (the Départemental association for Cerebral Palsy).
7 to 10 March 2022 - Les Menuires du Rire comedy festival
Enjoy Les Menuires du Rire again, sponsored by humorist, comedian and imitator Florent Peyre - an event where you will be falling about the place, not from skiing, but from laughing so much! Over 2,000 people came together to enjoy theatre performances, stand-up and magic when this festival ran for its second time in 2020. Boosted by this success, the event is back again on 7 to 10 March 2022.
3 April 2022 - 3 Vallées Enduro
For over 15 years, over 1,000 skiing fans have come to discover and explore the 3 Vallées (the largest ski area in the world) through timed events which are as varied as they are fun. The aim is allow as many skiers as possible to find out about the 3 Vallées ski area in an original, accessible and welcoming way.
9 April 2022 - Madness in La Masse !
The great skiing festival held on La Masse which is open all! This unique competition brings together 400 affiliated and unaffiliated participants for an amazing, giant slalom which is like no other. Competitors descend 4.87 km, 150 bends and a 1,050 m drop in altitude from Pointe de la Masse, which is the equivalent of three of the giant slaloms at the World Cup! A more accessible intermediate option starts further down the route. Entertainment, concerts and a festive evening are planned to take place on the La Masse terrace and in the heart of the resort.
11 to 17 April - La Yogiski 5th Event
Les Menuires resort is once again celebrating a chilled attitude with this varied, action-packed programme. The programme involves a week of yoga and hiking, relaxation and meditation, combining positive energy and sharing good vibes.
Free workshops open to all in sophrology, laughter yoga and vinyasa yoga, sylvotherapy, Qi Gong and foot reflexology, etc. can be enjoyed in the heart of the resort or on the terrace of La Masse at 2,804 m.
The week ends with a hike at sunset to Lac du Lou, along with a pranayama yoga session in the open air and breathing exercises which revitalise the body and calm the mind. The programme's participants will sit down in the warmth of the Lac du Lou mountain refuge to enjoy a vegetarian meal, before heading back down to the resort under a starry sky. This is the ideal way to finish off the ski season in a memorable way. You can also pack some of the relaxation exercises into your suitcase to take home with you as they can easily be incorporated into your daily routine.